THE HailiCare™
 IS THE WORLD'S MOST EFFECTIVE BACK PAIN RELIEVER BELT WHICH IS G

UARANTEED TO REDUCE BACK PAIN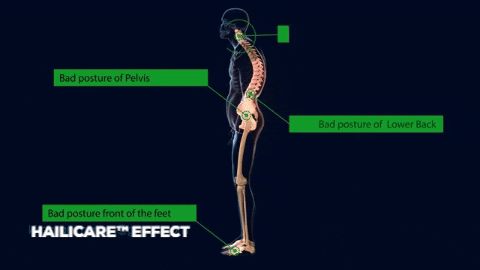 The HailiCare™ is the world's most efficient back pain reliever that allows you to sit longer, lift heavier, maintain correct back and spine posture all while keeping you 100% safe. Reduce existing back pain, protect against injury, and enhance your performance.
Guaranteed to reduce back pain and improve performance within 30 days or your money back, no questions asked.
WHY DO I NEED THIS?
If you have a 9-5 sitting job, it is hurting your lower back more than you think.
Researches show that 95% of people have

 

lower back posture issues which may cause serious injuries in the future. 
With aging, Bones become weak which causes nerve pain and back spasms.
HailiCare™ supports and

 

aligns the spine. Improves proper posture for long term healing.

Improve mental focus, sleep, and productivity

Lightweight and comfortable to use. It can be

 

discreetly worn under clothing

 

allowing you to perform daily activities.
Helps you

 

save money

 

on expensive doctors visits
Don't already have back pain? Let's keep it that way!  HailiCare™ protects your back and enhances your power like never before. It's not just a recovery tool, it's a performance tool. 
FEEL THE DIFFERENCE IMMEDIATELY 

HailiCare™ is a decompression belt that quickly and easily loosens the tight muscles and eliminates the back and spine problems. 
It tightens the section around the spine to stabilize and provide it proper support.
When spine and back pain is not treated, it affects your health and leads to mental problems like poor focus, restless nights, increased stress, reduced productivity and social impairment.

This directly affects the quality of your life. 

What is the solution?

HailiCare™ uses the same therapy chiropractors use to decompress the spine and relieve lumbar pressure.
Herniated/Bulging discs 

Lumbar acute/chronic sprain 

Spondylolysis and spondylolisthesis 

A compression fracture in the lumbar region 

Low back pain due to physical and/or physiological conditions 

Strenuous jobs requiring heavy lifting and/or long hours driving 

Degenerative disc disease 

Sciatica

HOW DOES IT WORK?
HailiCare™ stretches the lower back that helps in lifting the upper body, decompressing the spine discs and relax tight muscles to quickly relieve lower back and pinched nerve pain.
This belt is
recommended by chiropractors
 for decompressing the spinal discs and relieve pressure off of pinched nerves, degenerative discs and promote herniated and bulged discs return to normal over a period of time improving long term spine health
50% OFF for a limited time only. Get your Magical HailiCare™ BACK PAIN RELIEVER NOW!